We absolutely love pizza here at Wordans, which is why we love celebrating World Pizza Day! We're not sure when this celebration was inaugurated, and we don't actually care, the most important thing is that every year on 9th February we get to eat our favorite food, guilt-free!
The only thing we love more than pizza is collaborating with businesses to provide customized apparel. So, we were delighted when Cruel Pizza, an independent restaurant in Barcelona, Spain, got in touch to see if we could provide customized t-shirts and hoodies for their staff. Of course, we were happy to help, and we took the opportunity to pick the brains of owners, Julio and Jenni on why they chose us, their journey, and their future goals.
What made you choose Wordans as your apparel supplier?
"We work with quality brands. Our flours are first class, we use the best mozzarella on the market and we bring tomatoes from the coasts of Naples. It made no sense to supply ourselves with branded apparel without knowing that it meets the same quality standards. Wordans is without a doubt a place where we find good brands that meet our principles of quality, which is made them stand out to us. Like with our other collaborators, we chose Wordans as suppliers because we saw ourselves reflected in them."
How does having branded apparel help your business?
"Cruel Pizza has a very strong brand identity. From day one we knew that marketing was going to be a great asset: something that was going to allow us to stand out and differentiate ourselves from the competition. Anything you can generate that points to your business is valuable in the long run. The visual aspect, as well as the small details, are very powerful. Having branded clothing in your business is a must if you want to convey unity. Cruel Pizza is a family and we all sail in the same boat, and we wanted to make sure this was clear to our customers"
How important are visibility and exposure to your business?
"Visibility and exposure are important for any business these days. In today's globalized world, every opportunity to improve visibility is essential. Exposure is the result of this visibility, and it is not only important that your customers return satisfied, but that they also recognize our pizza boxes in the street, know how to distinguish our logo, and know our brand's DNA."
How did you get into the pizza business?
"We like to think that this path chose us, pizza chose us. As in many cases, what started as a hobby ended up becoming an obsession and finally ended up as our livelihood."
What initial challenges did you face when starting out?
"The biggest one was perhaps the economic challenge. How well you develop a project is more important than you initially think. Then you realize that it is not easy to fit all your ideas into a structure that is constrained by a limited budget.
The second challenge was understanding that you should enjoy not only the result but also the process whatever the result is.
The last challenge was perhaps to educate our customers as we were aware that we offer a disruptive product. Many were not used to a style of pizza like ours and based on that we had to make a didactic approach through social networks, emphasizing the artisanal processes, the quality of the product, and above all the love for what we do and how we do it."
What do you attribute your success to?
"We would like to give all this credit to our pizzas, but we would like to think that there are more things that make us special. We are art lovers, so our search for the extraordinary and exquisiteness is endless. We improve our recipes on a weekly basis, and that pushes us to keep growing.
On the other hand, we believe that one of the important factors that make our pizzeria a unique place is that we comply with things that have been lost, or are in decline. Things like transparency: customers can see how we make their pizzas in real time. We use a reservation system that allows us to have pizzas ready at a time agreed with the customer, making our pizzeria queueless, with the shortest waiting times around. We also offer artisan products beyond pizza, such as our own home-brewed craft beer, our weekly homemade desserts, and our chef's specials. All these factors, and the fact that we are a neighborhood pizzeria, local, family-run, like businesses used to be, by the people and for the people, are attributes that we value and which unfortunately are becoming less and less common."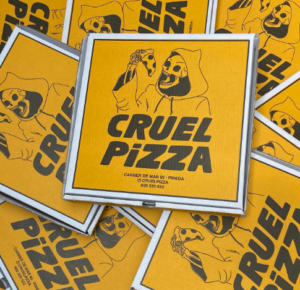 What advice would you give to budding entrepreneurs in your industry?
"Our advice is not to be afraid of failure. Be ambitious and try everything that interests you. We would tell you never to give up, and that every effort has its reward, it's just a matter of time."
What are your short-term goals for your business?
"Our only short-term goal is to satisfy our customers and keep learning from the process, keeping the flame alive and living the experience every day as if it were the first."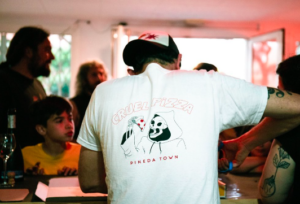 What are your long-term goals for your business?
"Our long-term goal is to grow the brand, expand, or scale. Being able to reach more people with our pizzas and add followers to our temple of worship for pizza lovers."
If you have been inspired by Cruel Pizza's story and would like your own customized apparel for your business, visit our website to explore our customization options and pricing. We offer various methods for printing your company branding on our blank apparel. You can also find more inspiration on our Instagram page @wearewordans.