Hello again and welcome back to our Printing Techniques blog series, where we will explore diverse printing methods around the clothing and accessories industries.
For our third entry we are going to talk about Direct to Garment Printing, or DTG!
Maybe you've heard about it in such a form, maybe you have not… but this technique is the process of printing full-color images onto garments.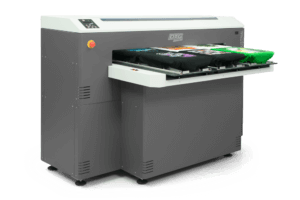 What are the uses for DTG?
Due to its less expensive setup DTG is perfect for short runs of full color prints onto a wide range of clothing.
Direct to Garment printers have currently evolved exponentially and are now capable of handling complex prints and a variety of garments, providing a perfect finish for occasional prints.
What are the Pros and Cons of Embroidery?
Pros:
Able print full-color images onto a wide range of clothing
Produces high-quality prints on a short amount of time
Can be used on both light and dark colored garments
Cons:
Colors are not matched to their Pantone color
Unsuitable for large runs of garments
Have a look at the video below to see how this technique is used currently on an industrial level: