Welcome back to our Printing Technique blog series, where we will explore diverse printing methods around the clothing and accessories industries.  On our second register we are going to talk about one of the oldest yet still very popular printing techniques in the industry – Embroidery.
Embroidery is a great technique as it's applicable to all types of textiles and contexts – from corporate clothing to uniforms and other types of clothing.  
This method is the perfect way to customize your garments and ensure that your Brand name and logo is represented perfectly and with the quality it deserves.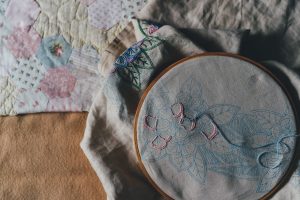 What are the uses for Embroidery?
Firstly, a design is setup within a special file format called a DST file.

This file is then passed along with a running sheet to the machines so that they know exactly how the garment should be embroidered.   
After this file has been sent to the machine, the cloths are then fixed into place using a special support which clamps the embroidered area of the garment so it is tight and will not move.
Finally, thread colors are added to the machine and the design is stitched onto the garment

What are the Pros and Cons of Embroidery?
Pros:
High-Quality finish guaranteed
Provides a stylish and refined look
Durable and accurate outcome
Cons:
Makes it difficult to achieve exact replications of complicated design
Can only use single colored threads and stitches to re-create designs
Minimum recommended order quantity is 25 units due to its setup costs
Have a look at the video below to see how this technique is used currently on an industrial level: