The idea behind this Printing Technique Series is to explore various printing methods in the industry, focusing on their specifics as well as their popularity and advantages and disadvantages according to their usage.
We are going to start by exploring one of the most popular printing techniques available in the industry:
Screen Printing!
Screen Printing is a process that applies ink directly onto clothing or any material through a silk mesh screen.
In order for this process to work and for this screen to be created, all of the artwork should be supplied in vector format since the colors are separated and a different screen is created for each color that is to be printed.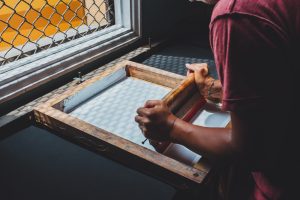 The ink is then mixed to the required color reference and applied to the screen.
On a final stage the ink is pushed with a squeegee through the mesh of the screen and onto the garment.
What are the uses of Screen Printing?
Screen printing works very well on nearly all garment types with the exception of garments that have long fibers.
Being a versatile technique, Screen printing makes it possible to print onto T-Shirts, Hoodies, Sweatshirts, Polo Shirts, Tote bags and many more products .
What are the Pros and Cons of Screen Printing?
Pros:
It is the fastest printing technique for printing in large volumes

Able to produce designs with multiple colors

High durability

Professional finish

Able to print on a variety of fabrics
Cons:
Setup costs make it unsuitable for small quantity orders
Have a look at the video below to understand how this technique actually applied: