Wordans: Making the Basics Work
By: Fashionista B
I always say "every wardrobe needs to have the basics in order to work." Basics are those pieces that never really get put away during the winter or summer season. They are the building blocks of every casual wardrobe, the bottom layer of office wear, interviews, evenings with friends, etc. Not every piece of your wardrobe can be a standout piece or you will likely end up being a little too much to take at once….It's time to start making the basics work!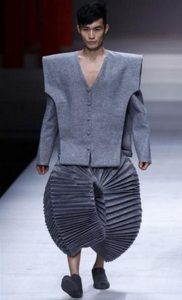 Each wardrobe should have a selection of shirts and pants that can be used in multiple outfits and of all the basics available, I think the t-shirt is the most versatile. T-shirts are useful for a wide variety of outfits. Glamour.com recently posted an article about how to create outfits with t-shirts.
What could be more classic than the t-shirt and jeans? This particular casual look is perfect for going out and spices up with a dramatic clutch and heels. Our Next Level 6760 Ladies Triblend is a great selection for this look, it's breezy lines give it a subtle curve that is perfect with your favourite jeans.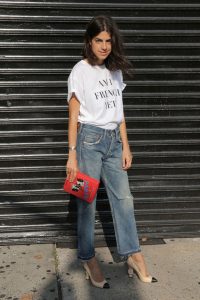 Secondly, kick up the basic t-shirt and jeans with the perfect jacket and heels. This tiny touch to your daytime wear can get you ready to go out on the town in just a few seconds. Our Bella + Canvas 6035 coloured v-neck would add even more fun flair to this look.
Furthermore, it's time to rock some colour! Add a t-shirt to a full coloured suit for a bold statement. Using a t-shirt with bold pieces is a great way to break up a look. You can make a statement without being too much to handle. The easiest piece to break up a look is the classical Bella + Canvas 6400 white T-shirt. The round neck will allow for any accent jewellery to shine.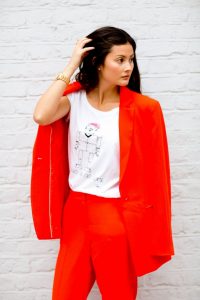 Finally, up your look with a fun skirt. A beautiful and flirty look, you can feel complete movement and comfort with this style. You are ready for school, a day at the office or an evening with the girls. Dress up this look with a great clutch or messenger bag. This look will be fantastic with any of our t-shirt choices, but I would like to suggest our Bella Ribbed V-Neck. This shirt gives wonderful lines to shoulders, arms and your waist. You can wear with a high fitted skirt or on top of a shirt of your choice.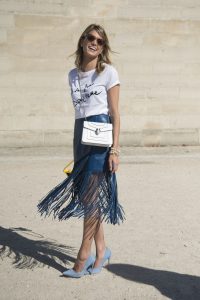 So, in conclusion, there are hundreds of more ways to utilize your t-shirt to it's fullest potential. Wear it with long and dangling statement jewellery, knot the bottom edge and match with jean shorts, or sport a bright tee underneath a white knitted shawl or sweater. Making basics work is limited by the imagination only. With these looks you know you are making the basics work for you.