Embroidering, flocking, screen printing… do you wish to have your articles customized, but don't know what's the difference between all these techniques? Would you like to know which customization method best suits your products?
Because at Wordans we consider that the choice of the customization technique is just as important as the choice of the product to be personalized (tee-shirts, bags, sweats…), here is an article to help you find the customization method best adapted to your products, and which will best meet your needs.
It is important to point out that each customization technique presents its benefits and disadvantages, and is therefore more or less adapted to your expectations.
Whichever technique of textile customization you'll decide to go for, you will be able to find lots of adapted products directly on Wordans.ca
Embroidering
If embroidery is the oldest of the textile customization techniques, it also appears among the most widespread. It consists of using thread and a needle to reproduce a visual on a textile. Although it is a basic technique, embroidery ensures high quality visuals, high precision and excellent durability.
Any kind of textile can be sublimated thanks to embroidery given the relief created by the thickness of the threads, but also because of the quality of the colors.  However, the embroidery technique presents a high cost compared to other textile customization techniques.
Benefits:
– Embroidery is a customization technique that can be used on any type of textile.
– It is possible to embroider in a wide range of colours, and they will remain true to the finished product.
– Embroidery is the customization method that offers the best durability over time.
– This method is considered to be noble and high quality, and adds value to the product.
– The relief of the visual created by the threads is a real guarantee of quality. Moreover embroidery is the customization technique which is the most used by high end brands.
– On certain supports (elastic for example), embroidery guarantees the non-elasticity of the fabric and ensures that the visual does not distort over time.
Disadvantages:
– Embroidery is not recommended on fine fabrics as it could weaken and deform the fabric.
– Embroidered visuals cannot include gradients.
– The cost of embroidery remains very high compared to other customization techniques.
At Wordans, we offer many embroidery suitable products that will have a very good quality finish and a good longevity, due to their thickness. For example, we recommend the Gildan brand references GN200 and GN186, both available in a wide range of colours and sizes. The thickness of the product (205 g/m²) is ideal for embroidery.
Screen printing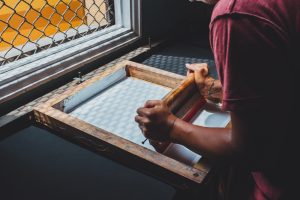 Screen printing is an extremely common method of textile customization as it can be used on many fabrics. The principle of this technique is to apply ink directly to the fabric to be customized using a frame (called a screen printing carousel) on which the fabric is placed, which is then covered with a stencil where the colors are applied one after the other.
This customization technique allows a clear and precise rendering, of very good quality and which lasts over time. Screen printing ensures a good quality/price ratio for large series. This technique is not suitable for small series because it requires many adjustments for each new product to be customized.
Benefits: 
– This textile customization technique offers the best quality/price ratio for large series.
– Screen printing provides a clear and precise rendering and ensures lasting quality, even after many washes.
– The color rendering is excellent and does not deteriorate over time.
Disadvantages:
– This is not a technique which is suitable for small series due to the adjustments required.
– With this method, it is impossible to make gradients or visuals with more than 3 distinct colours.
At Wordans, we offer a wide range of products that are particularly suitable for screen printing. We recommend, for example, Beechfield caps or Westford Mill shopping bags, which, due to their large printable surfaces, are suitable for this kind of technique. Screen printing on these products is particularly used for advertising and commercial purposes.
Flocking
The customization method of flocking is one of the best known and most used techniques in the field of sports in particular. This technique is relatively simple and consists in creating a visual on a paper specially designed for flocking, then to deposit this visual on the fabric to be flocked before using a hot press to transfer the visual on the textile.
The flocking method can be used on different types of fabrics, however it is very popular for complex prints and visuals as it provides great flexibility in transfer. This customization technique is widely used for small and medium series, but is not the most cost effective when it comes to larger series.
Benefits:
– This technique, unlike screen printing for example, allows to target all areas of a fabric, even the most complex ones.
– Flocking offers a good quality/price ratio for small and medium series.
– Once flocked, the visual is very clear, resistant and high-precision, totally identical to the original model.
– Flocking remains the most used customization technique in the sport domain.
Disadvantages:
– Flocking is a technique that offers a final visual slightly in relief, with a plasticized aspect.
– It is also impossible to create gradients with this customization technique.
– We do not advise to use flocking on waterproofed fabrics, as this may reduce the adhesion of the visual.
If you want to use flocking for your sport items, you'll find many suitable designs at Wordans, from football jerseys to sport shorts.
Sublimation printing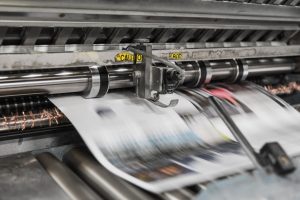 This customization technique is one of the most modern methods. Particularly adapted to sportswear, the sublimation printing technique allows to obtain very precise visuals at a relatively low cost.
This technique uses inks. The first step is to print the desired visual on a special paper, using sublimation inks. The paper is then pressed onto the fabric using a hot press. With sublimation printing, inks are directly injected into the fabric, which makes it possible to obtain a visual without any relief and completely waterproof and indelible.
Benefits:
– The visual obtained is of very good quality, totally waterproof and indelible.
– It is a technique particularly suitable for very colourful patterns and/or with shades, as the colors will remain vibrant over time.
– The rendering and durability of the obtained visuals by sublimation printing are even better on fabrics such as polyester or lycra.
Disadvantages:
– Customization by sublimation printing remains a high cost technique.
– The choice of the material as well as the color of the textile is limited: this technique is highly recommended on white or light-colored textiles.
At Wordans, we have a wide range of products specially designed to be customized by sublimation printing. From Clothes or bags to accessories, you will find many suitable products that will guarantee visuals of particularly high quality, both for the rendering and the longevity of the designs.
Direct to garment (DTG)
This customization technique is very modern and therefore constantly evolving. It consists in printing visuals thanks to ink jets using specialized printer for fabrics.
With this method, all types of visuals can be produced, regardless of their sizes, colors or shapes.As with the sublimation printing technique, the ink is directly injected into the fabric, making the visual touch insensitive, and also offering an incredible longevity.
Benefits:
 -With this technique, it is possible to create very complex visuals, with multiple colors, shades and/or gradients.
– Absolutely all types of fabric can be customized with this method.
– It is a technique that is suitable for small quantities, or even single pieces.
– The direct to garment method is much appreciated in the communication and advertising sector.
Disadvantages:
– The direct to garment method is not suitable for large series.
– The costs of customization using this method are high.
Even though this printing method can be used to personalize all types of products and can be applied to all types of fabrics, the most popular products for this method of personalization remain t-shirts, sweaters, and shopping bags.
There are, therefore, many customization techniques, each with its own characteristics. We hope that this article has allowed you to compare these methods and find the one that will best suit your products, while meeting your needs.
No matter which method you choose to go for, you will find everything you need on our Wordans.ca website. If you do not know who to entrust your articles to for their personalization, we advise you many printer partners in whom we trust and who will know how to enhance your articles for sure.