The spooky season is here, and it's time to get customers to fill your store as October isn't done with the unravelling of the yearly traditions and celebrations. To begin with, everyone enjoys good Halloween costumes; you'd be surprised at how much money people spend on Halloween-related items. Last year, approximately $3.3 billion was spent on costumes, and consumers are expected to spend more this year on average.
Having a business idea planned for this period is a wise move because no one is left out of the Halloween celebration; adults, children, and pets all dress up. The wearing of scary costumes and dressing up as celebrities, superheroes, cartoon characters, and other characters are all part of the fun of Halloween; in fact, there is no Halloween without costumes.
So, here's the last call to create a Halloween outfit for your merchandise with Wordans. First, have a look at the following blank apparel picks and how you can transform them into simple Halloween costumes. Then, let's get creative and bring in more customers to your store!
Men's Shirt for Bob Ross look
Bob Ross and Happy little tree Halloween costumes are one of the simplest do-it-yourself costumes that anyone can undertake. But can a Bob Ross exist without a shirt? Certainly not. We bring you our Ash City North Men's Shirt to complete your Bob Ross look! This shirt is made of  60% cotton and 40% polyester and has a classic, relaxed appearance. Apart from Halloween, It can be dressed up with a tie or worn casually. It comes in a variety of sizes, classic colours, and a jaw-dropping price. It is now possible to attend a Halloween party!  To achieve the happy little tree look, stock a green sweatshirt with a customized print of leaves on it. Customization is available directly from us! Here's the ideal Bob Ross and a Happy Little Tree Halloween Costume. Also, the white colour will suit  Men in black look; your shoppers will have fun tricking-or-treating.
T-shirt for the green with envy Halloween costume
I'm sure some of your customers would love to wear the green with envy Halloween costume, which is easily achievable with T-shirts that have the word "envy" printed on one of the shirts. Consider purchasing one of Wordans best-selling items, the Bella+Canvas  – Unisex Heather T-Shirt. Made of cotton/poly and available in female and children's sizes, rocking the look with a female or a child is not a problem. Aside from white and green, it is available in a variety of other colours. Of course, the price of a single piece is reasonable! Movie dates with friends will be more enjoyable with the Green with Envy Halloween costume! You can order more t-shirts and personalize them with Halloween-themed characters. This one's for you.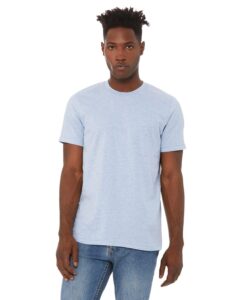 Tank Tops for Spaghetti and meatballs Halloween costume
Spaghetti and meatball costume is another simple Halloween look. It is available in short sleeves, long sleeves, baseball tee, and tank top styles. When you order from Wordans, you will have the option of having the spaghetti and meatballs customized directly. The Next Level – Women's Ideal Racerback Tank is a good option; it is made of cotton and polyester and comes in a variety of colours and sizes. Motivate your customers to go trick-or-treating and carving pumpkins. There are more interesting and comparable products for sale! This Halloween, connect with your customers.
Believe it or not, costume sellers  are one of the major stakeholders in the Halloween industry, so capitalize on the Last call to create the Halloween outfit for your merchandise. This business idea has the potential to bring you new customers and . Remember that we offer free shipping on orders over $129! And the wholesale deal is fantastic. For more information, please visit www.wordans.ca, or follow us on Instagram @wearewordans. Custom-made clothing can be purchased at www.wordans.ca/display/custom